---
Failing to tag your products on a marketplace might cause you to miss plenty of sales opportunities, but you are not alone in this issue.  Online stores, which control all the aspects of the products they upload, also tend to neglect tagging, which brings similar results.
---
Search is the tool that almost all customers use to find the products they are looking for on online stores. But search alone can only take you so far. That is why 93% of the users on ecommerce marketplaces will begin with a general search, and more than 80% will follow the search up with a navigation refinement. This means narrowing the search by selecting the specific attribute of the product they are after. But even though the navigation refinement is crucial for customers to find what they are looking for, most marketplaces and online stores tend to neglect this feature, which means many lost sales opportunities.
Before we get into examples, we need to understand what navigation is. When sellers upload a product to a marketplace or an online store, they may choose to list the different relevant attributes of the product (such as color, size, etc.), in a process called Tagging. When sellers tag their products correctly, they can be sure that no matter how narrow the search is, their products will always appear in the results. But as usually happens, when sellers don't tag their products, they are automatically tagged as "Not Specified" or "Other". This, of course, means that their products will disappear from most refined searches. Ebay.com's navigation refinement is a great example of the importance of tagging. Beginning with a search for "Jacket", we get a total of 9.15 million results. As soon as we begin narrowing the search by selecting specific attributes, the problem becomes very clear.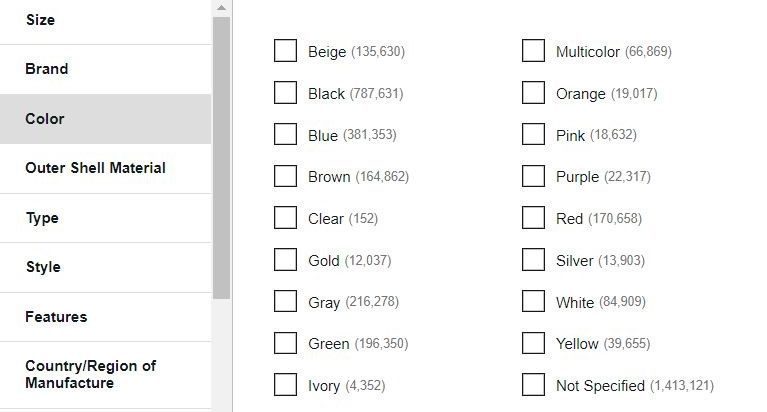 Surprisingly, we can see that most sellers didn't tag their jackets with the basic "color" attribute. Out of more than 9 million results, more than 15% of all products will just disappear when customers decide to narrow the search with a specific color. As we see below, the problem persists across almost all attributes, among them is "Closure", which is arguably a very important attribute of a jacket. We can see that again, more than 10% of the products will just not show up in the results, because the sellers didn't tag their products correctly.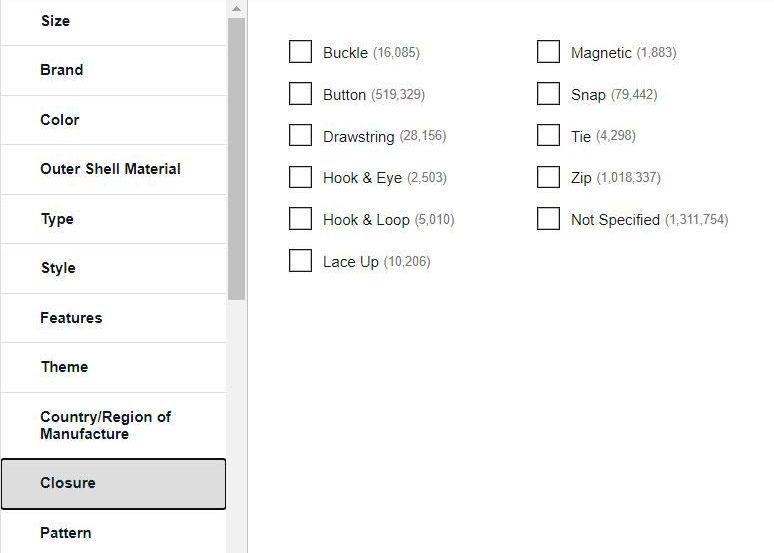 Now may start thinking 'if this happens on ebay, what happens on smaller marketplaces?' you are catching on. Ebay.de is separate from ebay.com in terms of navigation, but it helps demonstrate better how important it is to tag your products. Searching "t shirt" gives us 20.2 million results. When refining the search, the results are just ridiculous.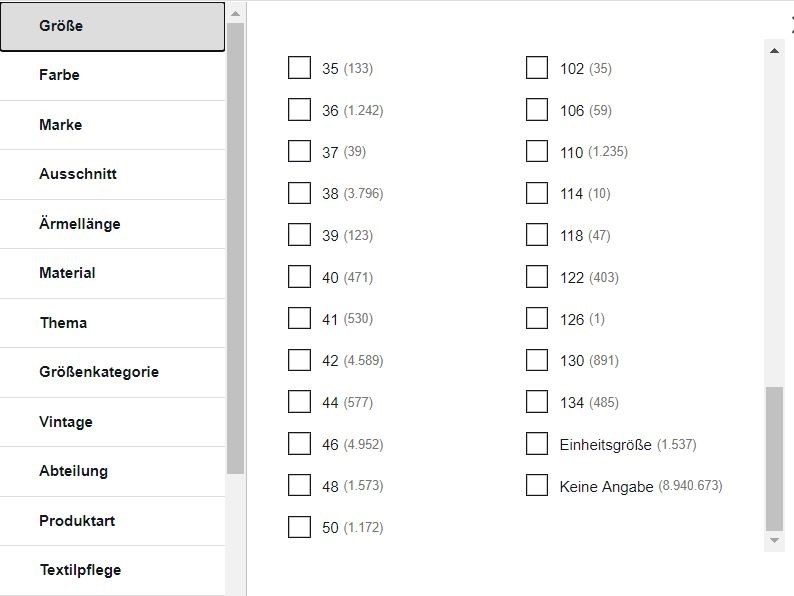 Out of 750,000 total results, 45% of products will disappear from the search result, just because the sellers did not tag their products with the "Größe (Size)" attribute. This may seem like an error, but if we look at the "Farbe (Color)" attribute, we see that almost 50% of products are not tagged and will not appear in the narrower searches. And size and material are probably the most important attributes of jackets. When searching by the "Ausschnitt (Neckline)" attribute, we see that a whopping 61% percent of products will not appear in the narrow search, because they are not tagged. While the situation at ebay.com is problematic indeed, the situation in ebay.de is catastrophic. At this stage, it is not only the responsibility of the sellers to correctly tag their products, but also important to the marketplace itself, since lost sales means lost revenue for the site. And with the problem of untagged products as big as this one, the losses are huge.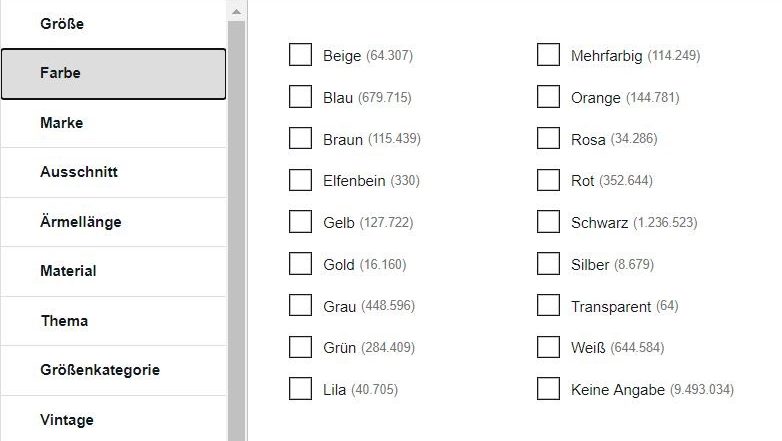 By now you should begin to understand why not tagging your products might cause you to miss plenty of sales opportunities, but maybe you think that this problem is restricted to marketplaces. Well, it is most certainly not. Online stores, which control all the products they upload, also tend to neglect tagging, which brings similar results. For example, we searched for "bed" on Ikea's  website, and got 985 results. When we narrowed down our search by selecting the "Size" attribute, we found only about 130 results. Meaning, only 15% of the products are tagged for this attribute, which leaves out a whole lot of beds. Something is obviously wrong with the tagging over at Ikea.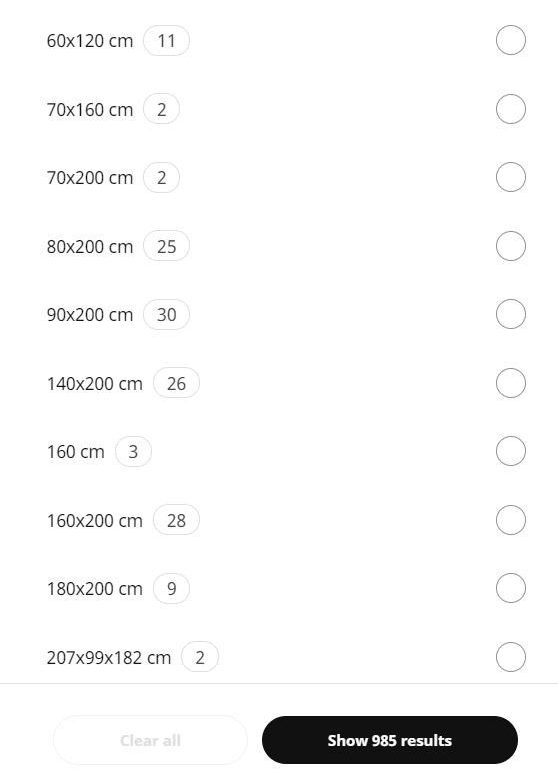 They are not the only ones, of course. A giant like The Home Depot also seems to not bother with tagging, which creates the same problem. Searching for "drill" on Home Depot's online store, we got almost 6,000 results. I may not know much about drills, but if there is one attribute of drills I do know, it's either cordless or corded. Well, in this case, we have to be satisfied with only about 23% of the products, because this is what this attribute leaves us with. Home Depot's online store is another fine example of how untagged products lead to lost sales opportunities.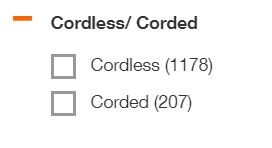 It is not all bad out there. Some sites understand the importance and the impact of correctly tagging their products, and make the full effort to do so. Booking.com is one of them, and it does a pretty good job of tagging its products (which in this case, are hotel stays). Searching for a romantic weekend in Venice, Italy in August brings back 2,000 results. The refinement navigation bar is a model of correct tagging. The most clear sign of correct tagging is the fact that the total number in each attribute is actually higher than the total number of general results. This means many products are tagged more than once for some attributes, which increases their exposure to the customers, and generates more leads. For example, a hotel room can have a swimming pool, breakfast included and free cancellation, and if you tag it with all three of these attributes, it will surely show up in more searches. More importantly, correct tagging such as in Booking.com prevents products from disappearing altogether from specific and narrow searches.

As we shown above, tagging products correctly is as crucial as having a functioning search bar. Tagging not only increases the exposure of products in the marketplace (and as we have seen, in online stores as well), but it also helps you prevent your products from disappearing in narrower  searches. It's quite simple actually, the more you tag your products - the more sales they generate.